To install Office 365 including Outlook
The required version of Microsoft Outlook is Office 2019 or higher. If you use an earlier version, you'll need an upgrade.

If your device is provided to you by your department please work with your tech or email support@nebraska.edu for support.
For personal computers, you can install the newest version of Office 365.

Visit aka.ms/office-install and sign in with your NU email address.
Once you've signed in and approved the DUO notification, the "Install Office" button appears in the top right of your screen. Click it to start the install of the entire Office 365 suite.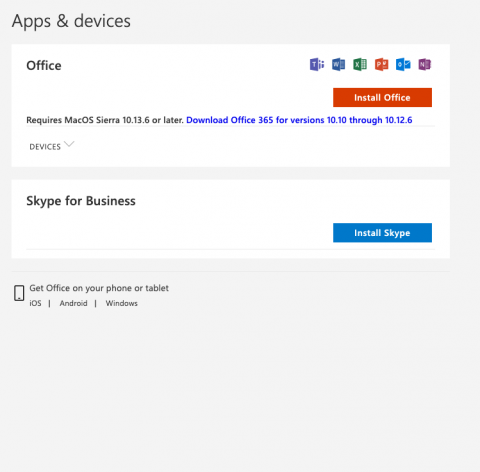 Mobile Device Install
Several Microsoft 365 apps have versions available for Windows Mobile, iOS, and Android devices. For more information about the apps, see Microsoft 365 for Mobile. The Word, Excel, PowerPoint, and OneDrive mobile apps offer premium features to Microsoft 365 subscribers. For information about the extra features available with Microsoft 365 on mobile, visit Windows Mobile, iOS, and Android
Troubleshooting iOS and MacOS Devices
iOS / iPadOS Troubleshooting
The Apple iOS/iPhone Mail app may send you into a cycle of trying to sign in. If it will not accept your password several times, try this:
Have your iPhone / iPad running at iOS version 14 or higher
Go to Settings, and scroll down to 'Passwords & Accounts'
Select your UNK/UNL/UNO/UNOP email account and choose 'Delete Account' at the bottom

When it takes you back to the 'Passwords & Accounts' screen, choose 'Add Account'
Choose the 'Microsoft Exchange' option and fill in your email account information
When you get to the sign in page, sign in like you normally do and be sure to look for the notification from the DUO app to approve the log in.
MacOS Computer Troubleshooting
If you use Apple's Mail app on Mac desktops and laptops, you may experience a similar inability to sign back in. The fix is the same as on the iPhone/iPad: Remove your NU 'Exchange' account and add it back.
In Apple Mail, go to the menu item "Mail > Accounts...".
Select the "Exchange" account on the left, and click the minus sign '–' at bottom of the list to delete it.
To add the account back, select "Exchange" and enter your NU email address to sign in.
Look for the DUO notification on your DUO device to approve the login. Your email messages, calendar and contacts will re-download.
In October 2020, Microsoft will be making security changes which will remove support for Basic Authentication with SMTP. If you're not using Microsoft Outlook, check with the vendor of your email client on support for Microsoft's Modern Authentication (OAuth).